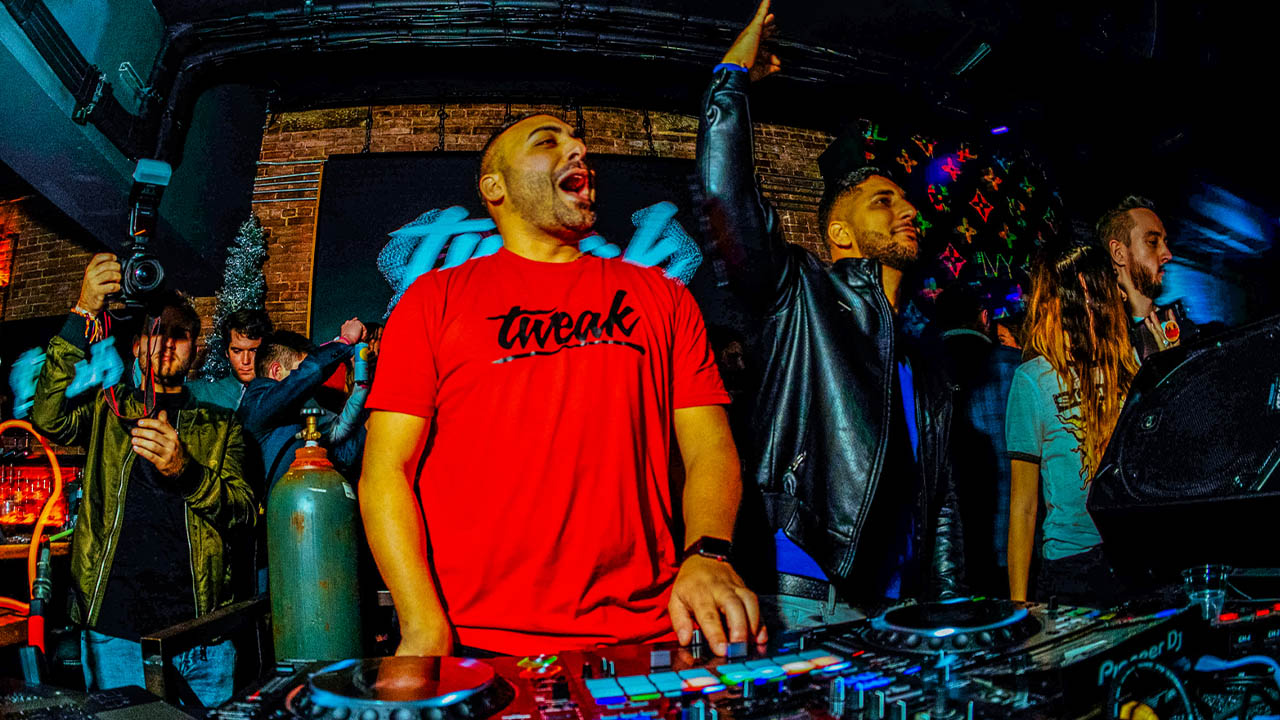 Hey DJ Tweak, glad to have you here today, how are you and how's everything in your life going right now?
Everything is amazing, thank you guys for having me.
You recently released 'Revive', an addictive song with a catchy beat! Can you tell us more about it? What's the story behind its name?
Honestly, it was an experimental project for me that I fell in love with. I have been seeing a lot of major artists shift towards producing dark deep house, progressive house tracks. And it really caught my attention. I honestly didn't know where to begin until I heard recent track by Nicky Romero's alter ego Monocule called 'Awakening' and I was instantly hooked and obsessed. I just couldn't stop listening to it. So I started listening to similar tracks to get some inspiration and it just kind of happened. I spent weeks working on it and just became obsessed with the sound and just couldn't wait to finally release it. It's my first original track of that genre.
What's the genre you feel more comfortable with when you produce music? Do you like exploring new realms of sound, and why?
Tech House and Progressive house have my heart. I have always been obsessed with both genres and I just love it so much that ideas come to me so easily. I released a recent house track called 'Shout' which was influenced by James Hype and I am til this date obsessed with that release. It's just so unique. Something about Tech House just makes me go crazy.
Can you please tell us how DJ Tweak's passion for music started and at what age?
I have been obsessed with music since I was a young child around the age of 8. Music always made me happy and I always had a passion for it. So I began to learn music and production at a young age. I started djing and learning the art when I was in middle school at age 12 and secured my first real dj gig when I was 16. Ever since then, I got hooked. I loved to DJ and make music and mix and create new songs, or remixes that could get people hyped and going crazy at my shows. Passion drives everything for me.
We heard that you will release an album in the summer of 2022. Can you tell our audience more about it, maybe you can disclose a name from a collaboration?
I have recently connected with an old friend and producer by the name of Art Beatz. Art released numerous tracks with famous artists including the one and only voice of the club, Fatman Scoop. When we reconnected, we had deep conversations about where we wanted to see our production go and we had a lot in common. So we decided to collaborate and work with a few artists to produce a Hip House album that features original songs that are based on house instrumentals with hip hop vocals. We believe that the market is heading towards that direction. With this release, we should have a larger fan base when we deliver music to people that can get them dancing regardless of what genre they like. So I am hoping by mid to end of 2022, we will be able to complete some Hip House projects and release an album with some club bangers.
From where do you take your inspiration when you're in the studio?
My inspiration comes from many different artists. Some of my favorite artists include David Guetta, Tiesto, Nicky Romero, Martin Garrix, ACraze, Gordo, and many more. There have been so many releases over the past few years that are crazy inspiring to me. Usually it leads to big ideas for me. So I have recently been able to spend more time in the studio trying to bring these ideas to life. Being able to DJ and produce is huge. Because while I am doing shows, I am able to see what tracks make a difference on a dance floor and I start new ideas and projects to deliver similar music that is catchy and unique for all of my fans.
How was your life in the last couple of years since there were no places where you could play live music as a DJ? And can you tell us where people can see you live in the clubs if you have a residency or some planned show for 2022?
The past few years have been tough. However, luckily in 2021 I was able to get back to doing live shows consistently which is my passion. I used the time where no venues held live events to focus on my production and release new tracks and I am thankful for that. Sometimes we don't realize how important downtime is. I try to use my time wisely and to be better my career no matter what the circumstances are. 2021 was an amazing year, I was able to release 3 original tracks and start a few projects heading into 2022. I also held residencies at Foxtail, Skybar, Twelve, and Local in Pittsburgh, PA. As well as monthly residencies at Inferno, and Ivy in Cleveland, OH, as well as DJ in a bunch of new cities across the USA. So honestly, I truly feel blessed and I thank god for all of the opportunities I was provided in 2021 that give me the fuel to grow and even reach higher milestones in 2022.
Even though the music industry looks beautiful from the outside, inside, there's a lot of hard working artists/DJs who keep it alive. Can you tell us how you disconnect from music to recharge your batteries? Do you have time for you and for your hobbies? Do you practice any sports?
Honestly, I have a lot of hobbies. One of the biggest things my fans don't know is I am actually a Founder and CEO of a tech company called Dealer Venom by Day. We build software for New Car Dealerships across the USA and Canada. Marketing, Programming, and Design have always been a passion of mine as well. So I am very fortunate to be able to have a career and a company to fall back on that allows me to clear my head and look forward to getting back into the studios or on the road. I am what you call a workaholic, so I love the fact I am non stop and I use music to help me unwind and clear my head.
Being a human being, we all have dreams and aspirations for the future. Can you tell us what are your future plans and if you can name an artist you want to collaborate with in the future?
My dream is to unite people through music. Music has the power to bring people together of all races, religions, and genders. Music has no color, religion, or faith. We all united together as one and that may be my favorite thing about what I do. I hope I can produce and release tracks that allow us all to enjoy them together all over the globe. I want to continue my production career with hopes of being able to perform and hold shows across the globe for everyone and give people a unique show and experience each and every time I perform. I would love one day to be able to Collaborate with artists such as David Guetta, Nicky Romero, James Hype, and many more.
This is all for now, thank you for your time. Do you have any more words you want to share it us and where can people follow you and listen to your songs?
Thank you for having me, this has been an amazing experience and I appreciate you taking the time to put me out there.
To anyone who is a fan of my music, please never hesitate to reach out to me on my social media especially instagram. I am extremely active and love connecting with people who enjoy my work. I would also love to collaborate with you if you are an up and coming artist with similar interests and taste in music.